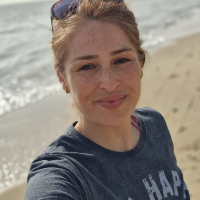 Bee is joining us in 2023 as our first ever Pilates teacher. She introduces herself below.
I have always worked in the health and fitness industry. From the age of 18, I was a gym instructor, personal trainer and was teaching high impact classes privately and in health clubs. I am also qualified and practicing Senior Dietitian for the NHS with 18 years experience under my belt working in a wide range of areas from mental health to oncology.
I discovered Pilates after an injury 20 years ago. I saw various professionals, from osteopaths to acupuncturists and through a recommendation made by a physiotherapist I found my elixir in Pilates. I have found nothing more effective at maintaining my physical strength and wellness and haven't looked back since both in terms of my own fitness and what I now exclusively teach!  I feel my wealth of experience to date has been in preparation to teach this exquisite physical discipline for the benefit of others both mentally and physically.  Whether you are looking for a way to optimise your health and strength or recovering from an injury - if you give Pilates a chance you will undoubtedly feel the balance and benefits it brings.  
I am excited and honoured to have the opportunity to teach this powerful mind-body exercise at The Cambridge Buddhist Centre and look forward to what lies ahead!