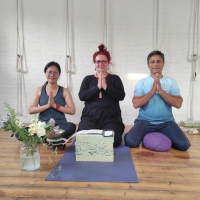 Amber has been practicing yoga for 50 years(!) and we warmly welcome her as a yoga teacher at the Cambridge Buddhist Centre from January 2022.
Amber's bio
I purchased my first book on yoga when I was 11 years old, inspired by a great Aunt who was a Vegan. At 16 I found my first yoga class at the local Sports Centre after being advised by an osteopath to give up gymnastics due to an injury. In 1994 I started my training as an Iyengar Yoga Teacher in London and took my assessment at the Maida Vale Institute in 1997.
Meanwhile, I taught yoga at the Croydon Buddhist Centre, at the Rivendell Retreat Centre, at Bodywise near the London Buddhist Centre, and I have taught yoga on retreat at Dhanakosa, the Scottish retreat centre in Triratna, for nearly 25 years. As well as teaching in many other community, educational, and workplace settings, and more recently teaching Sangha Yoga for the Hertford Triratna Sangha. My yoga career has spanned five decades so far and has been supported by my practice as a Buddhist, as a Holistic Health Practitioner, and more recently as a Permaculturist and Earth Sangha Practitioner.
One of my enduring highlights was to travel to Pune, in Maharashtra, India in the year 2000 and to train and study with Mr. Iyengar, Geeta Iyengar, and Prashant Iyengar in person. An experience that led me eventually to a strong connection with India, and especially to Kashmir, where I lived and worked for four years, and where I have been traveling for the past 20 years.
During the Global Pandemic, I took my yoga classes onto zoom as a way of keeping our yoga community together, to stave off mental health issues like anxiety and stress, that became rife in the community at large, as well as isolation and loneliness. We have come through this epic time together.
During the lockdown, I made use of some of the extra time available to train as a Yoga4Health practitioner, as well as a Trauma-Informed Yoga Teacher, and Yoga for PTSD. I now bring this collection of skills and lifelong experience of yoga to a new season of yoga classes at the Cambridge Buddhist Centre from January 2022. I very much look forward to seeing you there: Namaste!