Online Lunchtime Meditation class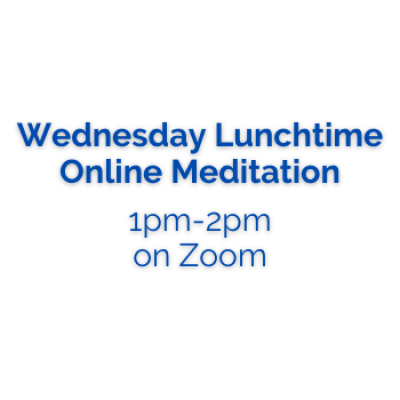 Dates:
Every Wednesday - 1.00pm to 2.00pm
Wednesday Lunchtime Online Meditation
Come and join our community of online meditators on Tuesday and Wednesday lunchtimes.
We teach two traditional meditation practices, the Mindfulness of Breathing and the Metta Bhavana (or cultivation of lovingkindness). These two complimentary practices help us to develop awareness, integration, tranquility and positive emotion.
Open to all experience levels, including newcomers.
Our classes will be held on Zoom. If you do not already have Zoom already, you can download it for free: https://zoom.us/.
The Zoom link for the class is here.
Meeting opens at 1pm. Meditation 1.05-1.55pm, then an option to join us for a virtual tea break after the meditation until 2.30pm!
All our meditation and Buddhism classes are freely given, with the financing of the Centre based on "dana" (generosity). We do not want to charge people to be part of our community.
We do however rely on the generosity of visitors and supporters to keep the Centre and its activities alive and available. If you would like to support us by making a regular or one-off donation you can do so here.
Please be aware that none of the classes/events run by the Cambridge Buddhist Centre are aimed at under 18 year olds. All under 18 year olds must be accompanied by their parent or another responsible adult over the age of 18 (with their parent's permission). Please contact us in advance of attending at info@cambridgebuddhistcentre.com so we can assess how suitable the event is for the young person and how we can safely enable them to engage in an on-line class.
Consider making a donation