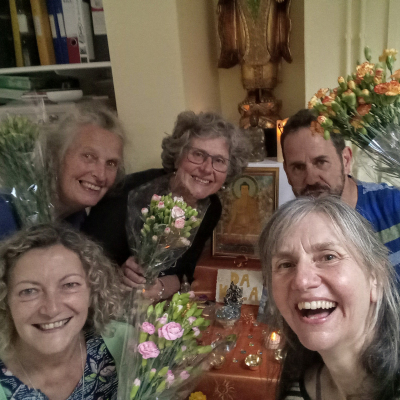 Our phone appeal team of (clockwise from right) Jane, Eileen, Jacqui, Priyadaka, and Kalyanadhi spent the evenings last week calling around our sangha...and what a response we had! So many lovely chats and connections and a fantastic response of financial generosity to support the Centre. We were also fueled by the generosity of Vimalabandhu, Holly, and Liz who cooked delicious meals for us, a very big thank you to them!!
So far the appeal has raised additional monthly donations that add up to £7,750 a year! An amazing response! Many people are having a think about what they'd like to give so this isn't a final total, the generosity keeps pouring in.
Would you like to make or increase your donation to the Centre to help our fledgling Dana Economy and make the Dharma available for all, no matter what their financial circumstances?
You can click on this link: https://pay.gocardless.com/AL00006SE6NGTM fill in a few simple details and we'll be in touch to find out how much you'd like to give in a monthly donation and when you'd like it to go out.
Thank you so much for such a fabulous response to this appeal, we'll keep you posted on how much our Sangha raises!
Very best wishes,
Kalyanadhi
On behalf of the Dana Kula