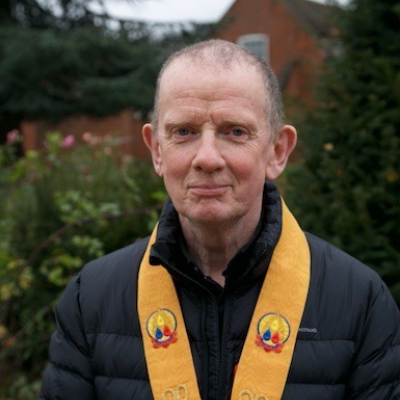 Dear fellow Sangha members,
Following the recent announcement that Vidyasakhi is having to step down as Centre Chair, we are pleased to tell you that Arthapriya has generously offered to take up the role of Interim Chair with immediate effect.
The Council of Trustees has unanimously accepted Arthapriya's offer with gratitude, especially as it means that he very generously has changed some of his other important commitments in order to be available for us.
As many will know, Arthapriya is a Senior Order Member with past experience of being Chair at Manchester, and he is currently a member of the College of Public Preceptors. So the Trustees have every confidence that the role of Chair will be in safe hands with him at the helm.
Arthapriya says 
'I do have a condition and that is that I will not do it for longer than the end of 2022. I see my main responsibility in being interim Chair is to help bring stability and confidence to the running of the Centre, and to help galvanise the search for a new Chair.'
We are sure that you will want to join us in welcoming Arthapriya and supporting him as he takes up his new role. 
You can contact him via his CBC email address: arthapriya@cambridgebuddhistcentre.com.
With metta,
Kamalamati
on behalf of the Trustees of the Cambridge Buddhist Centre