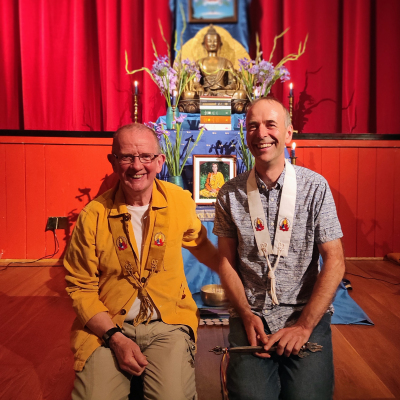 We would like to welcome Keturaja to his role as Centre Chair at Cambridge Buddhist Centre. He officially became Centre Chair on Dharma Day on Sunday and was handed the symbol of office by Arthapriya, who kindly took on the position of Interim Chair last year. 
Some words from Keturaja -
'I wanted to thank the many members of the Sangha who have welcomed me and expressed their support for my becoming the new chair of the Cambridge Buddhist Centre.  I have also been made to feel very welcome by the centre team and council.  I very much look forward to working with those teams and getting to know more of the Sangha over the coming months.  On a joyful Dharma Day celebration last weekend Arthapriya ritually handed over the responsibility of being chair, and we were able to thank him for his generosity in standing in as interim chair since the beginning of the year.  I was delighted that the first thing that I did as chair was to preside over a ceremony in which six members of the sangha becoming Mitras.
 Having not previously worked at the Buddhist Centre, I have a lot to learn and am enjoying meeting up with people and finding out about all the many activities that go on at the CBC.  What has already come across to me is the level of engagement and generosity of so many of the Sangha in making the Centre what it is.  It has also been delightful to see the depth of friendships in the Sangha flourishing in the context of shared practice.'
Please join us in thanking Arthapriya for stepping into the role of Interim Chair and bringing experience,  stability and support to the centre at a very challenging time.
A big welcome to Keturaja and we look forward to working with you.
With Metta,
The Cambridge Buddhist Centre Team