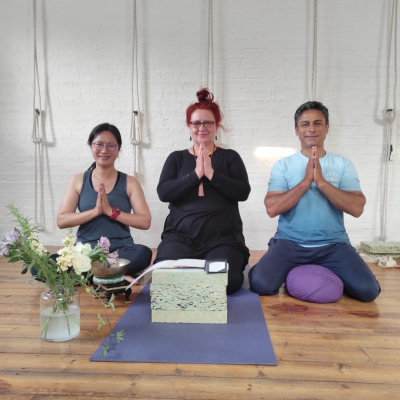 As many of us may know, Yoga teacher Amber led an eight-hour Yogathon to raise funds for the DEC (Disasters Emergency Committee for Ukraine) on Sunday 14th of August, 2022.
The Just Giving Page has raised a magnificent total of £1770, including gift aid so far!
All funds will go to support the DEC, and their local partners in Ukraine, to support the immediate needs of all people fleeing with food, water, medical assistance, protection and trauma care.
We will leave the fundraiser Just Giving page open to those who would like to share the fundraiser link or donate.
www.justgiving.com/fundraising/yogathon-by-amber
Some words from Amber:
"I would like to sincerely thank the Cambridge Buddhist Centre Team for their vision and in-depth support in hosting this Yogathon: something she has wanted to do for over two decades, their help was sublime in making this happen.
I would also like to say a big heartfelt THANK YOU for all the inspiring generosity of all those who were able to donate to this appeal. The generosity of the Sangha and the wider community has been inspirational and offers an uplifting message of hope and compassion, resilience even, in difficult times. "On the actual day of the Yogathon, there was a heatwave here in the UK which added another dimension to the day as we sweltered through our yoga poses for eight hours.
Another big thank you, this time to Pik and Shah for practising alongside me in the studio on the day, and to those who practised at home during the Yogathon. Every yoga posture was worthwhile in that formidable heat as we are delighted with the outcome and the subsequent collective opportunity to offer support where it is needed, and to help put the situation in Ukraine back on the agenda."
Lastly, Amber would like to thank BBC Radio Cambridgeshire and local Cambridge 105 Radio for interviewing her and for helping to spread the word in Cambridge about the Yogathon".
The Centre team would like to say a massive thank you to everyone who has supported and donated to the event and to those who accompanied Amber on this very hot day!
Also, well done Amber for your heroic efforts, both in preparing for and undertaking the Yogathon. What a fantastic achievement and an absolute pleasure to support you throughout this fundraiser!
With Metta,
The Cambridge Buddhist Centre Team