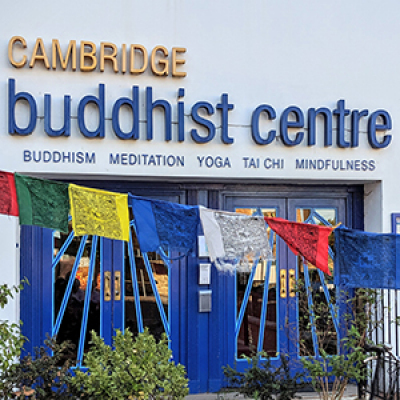 At our recent AGM there was a heartfelt request for Order Members and mitras to be able to come to the Centre over the coming weeks. We can really understand how important it feels to many of you to be able to connect with our beloved building; to make shrines and perform acts of devotion there in the context of our shared history and vision.
The Centre Team is, however, not in a position to make that possible in the coming weeks. We simply don't have the resources or, as it were, infrastructure to facilitate the cleaning and maintenance of the space that would be required in accordance with government restrictions. Liz Mantle, our Property Manager,  is working hard and thinking through (in dialogue with myself and Arthasiddhi and the Centre Team) creative solutions to the Covid crisis in relation to our building: hopefully in the New Year things will ease up and more embodied activities will be possible.
Under Tier 2 guidance there is some provision for places of worship to remain open for limited purposes. We have thought through the implications of opening on a partial basis and consider it impractical for us to manage that at this point in time. We will continue to review our position as things change and we are committed to opening the Centre more fully when conditions allow.  
Over 100 people attended last Sunday's Sangha Day celebration and Mitra ceremonies. Feedback from the day has been fantastic with much rejoicing in the benefits of coming together online and creating spaces where we can share our commitment.  
We are busy planning our online winter programme and are very excited by what we have in store for you in the New Year - so please do keep an eye on the website and your email inbox, subscribe to our YouTube channel for a rich content of talks and guided meditations, and come to our winter morning meditations starting 14th December.
We're doing all we can to help you navigate these challenging times, from darkness to light.
 
Vidyasakhi 
on behalf of the Centre Team